January 2022
SCOTUS Strikes Down One Vaccine Mandate, Upholds Another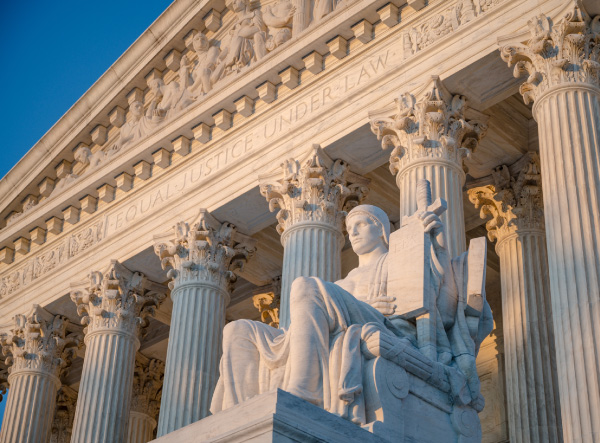 On January 13, the Supreme Court of the United States (SCOTUS) struck down the Biden Administration's vaccine mandate that was to apply to all large employers. That same day, the Supreme Court upheld the administration's vaccine mandate that applies to healthcare workers at healthcare facilities that receive Medicare and Medicaid. 
These cases were closely watched by Supreme Court observers after the Court had spent last year alternately striking down some COVID-19 restrictions on First Amendment activities and upholding others. 
In the first case, National Federation of Independent Business v. Department of Labor, the federal entity overseeing workplace safety, better known by the acronym OSHA (Occupational Safety and Health Administration), sought to require all employers with more than 100 persons to require vaccines of all employees unless they had a medical or religious exemption. If the employees did not get the vaccine, they would have to get tested regularly and wear masks at work. The Supreme Court voted 6-3 to strike down the mandate, opining that the Sixth Circuit Court of Appeals had erred in allowing the rule to proceed. 
The majority based its ruling on the view that OSHA, as created by Congress via statute, had not been given the authority to implement such a broad mandate impacting so many employers and employees. OSHA, the Court held, does not have "the power to regulate public health more broadly" by requiring the vaccination of an estimated 84 million Americans. 
In the second case, Biden v. Missouri, the Court upheld the U.S. Department of Health and Human Services' mandate that healthcare facilities receiving Medicare and Medicaid funding must vaccinate their staff against COVID-19. In this ruling the majority found that Congress had empowered the health and human services secretary to create rules protecting the health and safety of those who receive Medicare and Medicaid services. 
These opinions followed a busy 2021 during which the Supreme Court was repeatedly asked to weigh in on whether state and local governments were violating the First Amendment by placing limits on group gatherings, such as at houses of worship. We chronicled some of these cases last year, when the Supreme Court upheld local restrictions on religious exercise due to COVID-19 in California and then invalidated similar restrictions in New York. In each of the cases decided this month, the mandate at issue provided religious and medical exemptions. 
For more information on First Amendment and constitutional matters, including RLUIPA and land use matters, please contact Joseph McGill at 734-742-1800.