January 2017
Greer: A Pain in the Rear(view)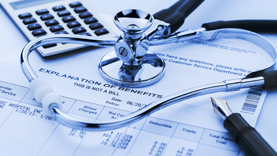 Greer v Advantage Health has been a drama three years in the making. There've been highs, lows, and perhaps a few tears. But, all that is behind us now! Mostly…
On January 6, 2017, Governor Rick Snyder signed Senate Bill 1104, which remedies the problem created in Greer by ensuring that plaintiffs are awarded fair compensation for medical expenses actually incurred rather than windfall recoveries based on illusory "sticker prices" (i.e., amounts billed but never actually paid by the patient or the insurer due to insurance discounts). 
The story begins in May 2014, when the Michigan Court of Appeals issued Greer v Advantage Health, which held that a plaintiff can recover the entire billed amount for medical expenses even though the medical providers actually accepted a lower amount as payment in full due to negotiated discounts.1 For example, if a plaintiff's past medical expenses have a "sticker price" of $1 million but the health insurer only pays $400,000 after negotiated discounts, the plaintiff is still entitled to recover the full $1 million, which results in a windfall recovery of $600,000! Allowing plaintiff to pocket well over half a million dollars for illusory medical expenses that no one will ever pay violates fundamental principles of damage law and common sense. 
Most expected the Michigan Supreme Court would overturn Greer. And, things looked promising when the Court granted leave to appeal in December 2014 and even more promising when it heard oral argument in October 2015. 
All was well, until, on a fateful summer's day, the Court unexpectedly vacated its order granting leave to appeal, makingGreer law of the land—FOREVER! (At least, absent legislative action or a drastic change of heart by the Michigan Supreme Court.) 
Just when all seemed lost, a voice rang out in the darkness—Justice Brian Zahra's clarion call for reform! In a concurring opinion, Justice Zahra implored the legislature to amend the statute to preclude the windfall recoveries permitted under Greer.2 
The call was answered by Senator Mike Shirkey. Senator Shirkey introduced Senate Bill 1104 in September 2016, which was then signed into law in January 2017, with broad support from esteemed healthcare associations and professional liability insurers as well as the Michigan Chamber of Commerce and the defense bar.
The statute, codified as MCL 600.1482, states that, in medical malpractice actions, the damages recoverable for past medical expenses or rehabilitation expenses shall be limited to "actual damages for medical care," which is defined as the "dollar amount actually paid for past medical expenses or rehabilitation service expenses, including payments made by insurers, but excluding any contractual discounts, price reductions or write-offs."3
The statute will apply to actions filed on or after April 10, 2017 and will prospectively remedy Greer.4 That said, the handling of legacy cases will remain an issue for the next several years, and Greer is certainly an obstacle in that regard. The decision, however, leaves open a number of strategies, based on common law and statutory arguments, which can be advanced in cases involving significant past medical expenses.
With Greer (mostly) in the rearview, the next challenge is amending the collateral source statute to clearlylimit damages for future medical expenses to plaintiff's estimated annual out-of-pocket expense under the Affordable Care Act ("ACA") or its replacement. There is currently a great deal of uncertainty regarding this issue, with trial courts reaching divergent results. Reform is necessary for the sake of clarity and consistency and to bring Michigan law squarely in line with the realities of the ACA and the individual mandate requiring all citizens to maintain health insurance. Given the political will and collective action demonstrated in the passage of Senate Bill 1104, this goal seems firmly within reach.
Please contact Mitch Jackson at 734-742-1800 for additional information on Greer or other healthcare issues.
1Greer v Advantage Health, 305 Mich App 192 (2014).

2Greer v Advantage Health, 499 Mich 975 (2016) (Zahra, J., concurring).

3Emphasis added.
4The statute applies to actions filed 90 days after its effective date. However, there is a question regarding whether the statute became effective when it was signed by the Governor on January 6, 2017 (and thus applies to actions filed on or after April 6, 2017), or whether it became effective when it was filed with the Secretary of State on January 10, 2017 (and thus applies to actions filed on or after April 10, 2017). Based on prevailing legal authority, April 10, 2017 appears to be the operative date.