January 2023
FBMJ Congratulates New Members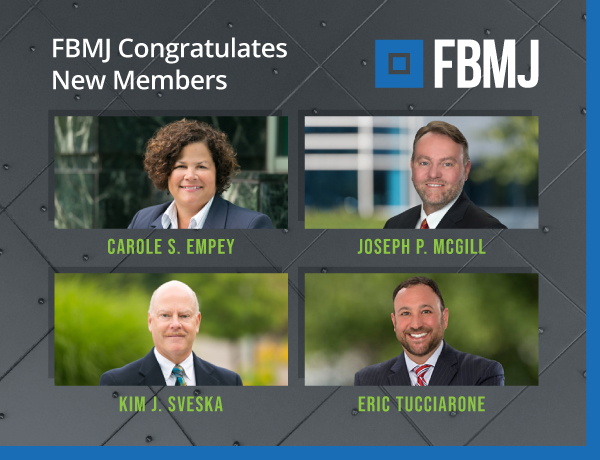 Foley, Baron, Metzger & Juip, PLLC, is pleased to announce that the firm has elected four attorneys into the membership of the firm, effective January 1, 2023. The new members are Carole S. Empey, Joseph P. McGill, Kim J. Sveska and Enrico (Eric) G. Tucciarone.
"We congratulate our new members for earning this well-deserved professional achievement through their hard work on behalf of our clients," said Randall Juip, a member of the firm. "Their long-standing commitment to the firm and its clients, their hard work, stature in the legal community and their impressive results for our clients have helped propel their success and that of the firm. We congratulate them on their new leadership positions."
Carole Empey
Empey focuses her practice on litigating complex civil matters. She represents clients in medical malpractice claims, corporate healthcare, managed care litigation and physician staff privilege claims and has experience in products liability, general liability and insurance coverage disputes. In addition, she defends healthcare providers in licensing matters.
Joseph McGill
McGill has extensive litigation and transactional experience in commercial disputes, probate, estate planning, corporate, real estate, insurance coverage analysis and family law. He acts as national trial counsel in the defense of product liability claims in the heating industry and others. He helps clients navigate through complex disputes in state and federal courts across the nation. He is also an elected officer of the State Bar of Michigan, Board of Commissioners and will serve as state bar president in the 2024 – 2025 bar year.
Kim Sveska
Sveska represents businesses in the defense of products liability and toxic tort litigation and defends pharmacists, physicians and other health care providers against malpractice claims. He has considerable experience handling complex litigation, managing science and medical issues, experts and related components of national litigation, as well as the preparation of Daubert challenges to plaintiff experts.
Eric Tucciarone
Tucciarone has defended healthcare institutions and professionals for over 27 years. He has significant trial experience and is lead trial counsel for several national and local healthcare systems and insurers. His defense practice spans a broad range of medical specialties, including emergency medicine, orthopedics, general surgery, anesthesiology, cardiology, obstetrics and gynecology, infectious diseases, neurology, nursing, oncology, pharmacology, podiatry and radiology. In addition, he has successfully represented healthcare clients in high-exposure, high-publicity, mass tort claims.