May 2016
FBMJ Attorneys Co-Author Article for CLM on Flint Water Crisis – "Tragedy on Tap"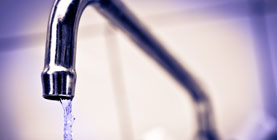 Richard Baron and Ben Fruchey co-authored "A Tragedy on Tap," published in the May 2016 issue of Claims Management Magazine. The article focused on issues surrounding the Flint, Michigan water crisis that are of interest to claims professionals and attorneys, concentrating on the claims and litigation aspect of the recent crisis.
"A Tragedy on Tap" included a summary of the underlying facts, the Flint Water Advisory Task Force findings and pending litigation, the availability of defenses, an assessment of class certification issues, and potential strategies for alternative settlement methods.
Claims Management Magazine is a publication of the Claims and Litigation Management (CLM) Alliance, a national organization of over 30,000 professionals in the claims and litigation management industries.
FBMJ environmental attorneys have a keen understanding for the liability and coverage issues arising from tragedies such as the Flint water crisis, and routinely help clients make sense of the claims and litigation which follow these unfortunate events. For more information on this article or other environmental issues contact Richard Baron (rbaron@fbmjlaw.com) or Ben Fruchey (bfruchey@fbmjlaw.com).