January 2023
FBMJ Announces Attorney Promotions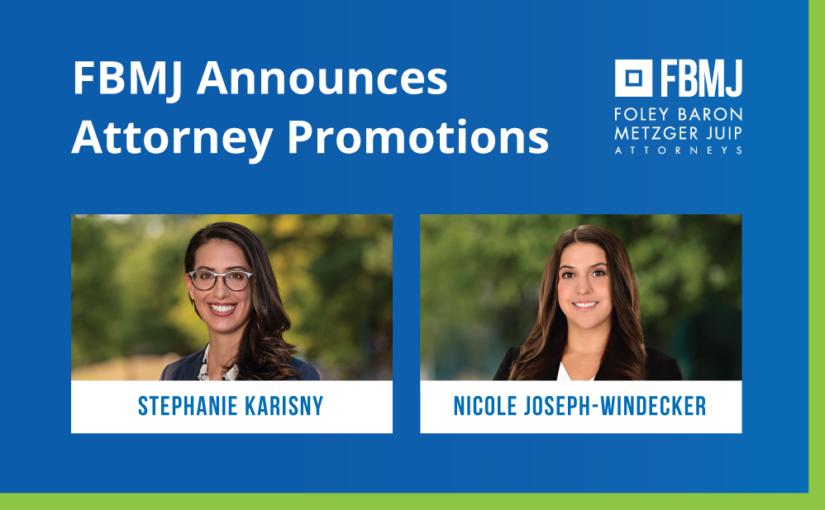 Foley, Baron, Metzger & Juip, PLLC is pleased to announce the promotion of attorney Stephanie A. Karisny to Associate Principal and Nicole Joseph-Windecker to Senior Associate. "Both Stephanie and Nicole have demonstrated exceptional talent and commitment to our clients. We are incredibly pleased to welcome them to their new positions and look forward to their continued success."
Karisny, promoted to Associate Principal, focuses her practice on defending hospitals and health care professionals in complex medical malpractice litigation. She has assisted in the representation of some of the largest, multi-site health systems in Michigan. She holds a bachelor's degree from Eastern Michigan University and a law degree cum laude from Wayne State University Law School (2012).
Joseph-Windecker, promoted to Senior Associate, is part of the medical-malpractice practice group and defends health care professionals and organizations. She is also experienced in insurance defense work including motor vehicle, property, and fire and casualty litigation. Nicole holds a bachelor's degree from the University of Michigan and a law degree from the University of Detroit-Mercy School of Law (2018).
About FBMJ
Based centrally in the Detroit/Ann Arbor Michigan area, FBMJ is a broad-service law firm serving as local, regional, and national counsel in high-stakes civil litigation with a strong focus on complex litigation including products and commercial liability, environmental, and health care litigation. Connect with us on fbmjlaw.com or LinkedIn.