MAY 2017
State Creates New Bureau to Regulate Medical Marijuana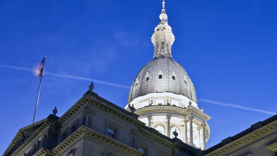 The State of Michigan has announced the creation of the Bureau of Medical Marihuana Regulation (BMMR) charged with developing new statutory requirements that will govern medical marijuana facility licensing in time for implementation in December.
The BMMR, which will be housed in the Department of Licensing and Regulatory Affairs (LARA), is a significant step by the state toward creating the rules that must be in place by the end of the year. The BMMR will implement the regulatory framework that will govern those who grow, transport and dispense medical marijuana pursuant to licenses for each of those three categories. Applications consistent with those regulations the bureau develops will first be accepted on December 15, 2017, meaning the BMMR will have the next seven months to draft and implement the relevant regulations. The bureau could grow to 100 employees who will investigate license applicants, regulate medical marijuana businesses and track marijuana plants from "seed to sale."
For the past several months, watchers of the new medical marijuana laws passed in September have waited for state regulators to begin creating these new rules that will govern growers, secure transporters, and provisioning centers. The state appeared to be falling behind, as it had failed to appoint members to the Medical Marihuana Facilities Licensing Board that LARA is to consult with in developing rules for the industry. Those appointments still have not been made but the creation of the bureau appears to be a step forward. Local government officials have been waiting for the state to move forward with new regulations to better understand the new laws before they decide whether to "opt-in" and permit medical marijuana businesses in their communities.
As a first step, the BMMR selected Franwell, Inc., a Florida-based technology and logistics company, to administer the state's monitoring and tracking system, which is intended to track marijuana plants from "seed to sale." The system Franwell puts in place will provide the BMMR with detailed inventory information, track medical marijuana in all its forms.
Notably, the BMMR will also include the Michigan Medical Marihuana Program (MMMP), the state patient and caregiver registry that currently contains more than 240,000 active patients and 40,000 active caregivers. The program administers the Michigan Medical Marihuana Act as approved by voters in 2008. The state intends to use the BMMR as a one-stop shop for all those interacting with medical marijuana throughout the state.
Foley, Baron, Metzger & Juip offers comprehensive administrative licensing services, including guidance with applications and the defense of licenses before the state licensing board. We also advise clients regarding medical marijuana law and the applicable state regulations. If you would like additional information pertaining to these topics, please contact Kim Sveska (ksveska@fbmjlaw.com), Richard Baron (rbaron@fbmjlaw.com) or Dan Cortez (dcortez@fbmjlaw.com).