MAY 2015
Nicholas B. Andrew Joins Foley, Baron, Metzger & Juip, PLLC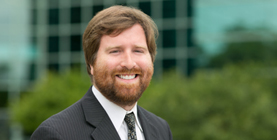 The law firm of Foley, Baron, Metzger & Juip, PLLC (FBMJ) recently added Nicholas B. Andrew to the firm as an associate attorney. Clyde M. Metzger, Managing Member, made the announcement.
In his new position, Andrew will work in the environmental law area handling the defense of claims in toxic tort, environmental due diligence, spill management and environmental compliance. In addition, he will be responsible for matters relating to facility permitting, mineral extraction regulations issues, surface and groundwater rights determinations, eminent domain takings and administrative procedure disputes.
Before joining Foley, Baron, Metzger & Juip, Nick worked for a Detroit-area law firm primarily engaged in civil litigation. He has extensive trial experience in the area of individual and small business bankruptcy, financial management and turnaround management.
Andrew earned his Bachelor of Arts degree, with honors, in Political Science and Environmental Studies in 2007 from the University of Michigan. He went on to earn his juris doctorate in 2011 from the University of Texas School of Law, Austin, Texas.
With offices based in Livonia and Ann Arbor, Michigan, Foley, Baron, Metzger & Juip, PLLC serves as local, regional and national counsel in high-stakes civil litigation. FBMJ is a broad-service law firm with a strong focus on complex litigation, including products and commercial liability, environmental and healthcare areas, as well as a broad range of other areas of law.