June 2016
New Michigan Act Allows Appointment of Funeral Representative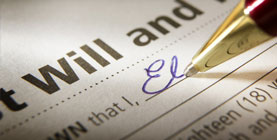 In late 2015, the Michigan Legislature introduced a bill which would provide greater clarity in determining who has the legal right to make funeral arrangements and final disposition decisions for deceased individuals. On March 29, 2016, Governor Rick Snyder signed Senate Bill 551 into law as Public Act 57 of 2016 (the "Act") which simplifies the process for effectuating funeral arrangements in Michigan. The Act takes effect on June 27, 2016.
As a result, people in Michigan now have the ability to appoint a "funeral representative" to make funeral arrangements and decisions regarding the disposition of their last remains after death. This appointment can be made by will, patient advocate designation, or in a separate document. Under prior law, the "next of kin" was granted the authority to make decisions regarding the funeral process, but they had no legal obligation to follow the wishes of the decedent. Further, prior Michigan law did not address situations in which the next of kin could not come to an agreement regarding funeral arrangements or final disposition decisions, or where the next of kin refused to follow the known directions of a decedent. Because the wishes of the decedent were not considered, individuals wishing to plan ahead to avoid possible disagreements between their loved ones upon their death were prevented from doing so, and final disposition decisions were not safeguarded.
The Act mitigates some of these problems and provides clarity to family members regarding who is responsible for handling the post-death decisions regarding funeral, burial, or cremation arrangements. If a funeral representative has been designated, he or she will have priority over such decisions above existing next of kin. A successor funeral representative may also be named to act in post-death decisions if the initial funeral representative is unable or unwilling to act. A funeral representative does have the right to forfeit this position if he or she is unwilling or unable to assume the financial responsibility for costs incurred as a result of exercising those rights. A proposed funeral representative's rights are forfeited if the person fails to act within 2 days after notification of death.
The new law makes the funeral representative a fiduciary with obligations to follow the known directions of the decedent. It also provides much more assurance to you and your family that your directions for funeral arrangements and the disposition of bodily remains will be followed.
FBMJ offers estate planning and administration services which includes both transactional and litigation expertise. We advise clients regarding estate and gift taxation issues which can include basic techniques such as simple wills and trusts, to more complicated transactions. If you would like additional information pertaining to the appointment of a funeral representative or developing or changing an estate plan, please contact Joseph McGill ([email protected]), Carole Empey ([email protected]), or Brian Richtarcik ([email protected]).