June 2017
New Bill Would Add Background Checks to Marijuana Facilities License Application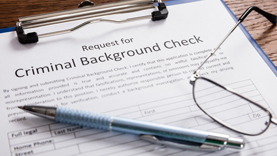 A new bill in the Michigan Senate Judiciary Committee would require applicants for a facilities license under the new medical marijuana statute to undergo state and federal background checks. This is a significant departure from the legislation already in effect that did not explicitly require such background checks.
Senate Bill 433 (2017), put forward by State Sen. Rick Jones, R- Grand Ledge, seeks to amend the Medical Marihuana Facilities Licensing Act signed by Gov. Snyder last fall. Under the Act, the state will license medical marijuana growers, processors, transporters, provisioning centers, and safety compliance facilities. A person may apply for one of these licenses under the act beginning in December, 2017.
The law as passed already called for all those who have an ownership interest in a marijuana facility to submit fingerprints. The Senate bill would require that such fingerprints be submitted to the Michigan State Police (MSP) so that they can conduct a criminal history check. The new bill would also require that MSP forward the fingerprints to the Federal Bureau of Investigation (FBI) for a national criminal history check. The law already bars applicants who have significant criminal histories related to drug offenses. More information about the proposed bill can be found here. There are already more than 220,000 medical marijuana patients in Michigan pursuant to the 2008 ballot measure that legalized the drug. It does not appear as though this legislation would apply retroactively to those persons unless they were applying for a facilities license.
Sen. Jones is a former police officer and his proposed legislation likely will be viewed as an attempt to discourage applicants. In particular, any applicant under the new law would know that the federal government would be aware of their application. The Trump Administration has not publically taken a position on federal enforcement of marijuana laws in states which have a regulatory system in place for medical marijuana. However, the omnibus spending bill he sent to Congress last month to fund the government through September included a rider that disallowed the Justice Department from using federal funds to prosecute medical marijuana businesses in states where medical marijuana is legal.
At the same time, it was revealed that Attorney General Jeff Sessions has asked Congress to undo federal medical marijuana protections that were put in place three years ago under the Rohrabacher-Farr Amendment. The protections prohibit the federal government from using federal funds to prevent states from implementing their own state laws regarding the use and distribution of medical marijuana. In his letter, Sessions said such protections prevent the Justice Department from enforcing the Controlled Substances Act. Rep. Dana Rohrabacher, one of the co-sponsors of the protections Sessions is seeking to undo, announced that he disagrees with Sessions' position.
Foley, Baron, Metzger & Juip offers comprehensive administrative licensing services, including guidance with applications and the defense of licenses before the state licensing board. We also advise clients regarding medical marijuana law and the applicable state regulations, as well as land use, facilities siting and related issues.
Contact Richard Baron and Dan Cortez for more information – phone 734-742-1800.