October 2017
Michigan Medical Marijuana Bureau Offers Wave of New Info on Expected Regulations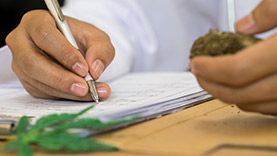 The bits and pieces of information medical marijuana advocates and business interests have longed for from the Michigan Bureau of Medical Marijuana Regulation (BMMR) are trickling with increasing frequency. The BMMR, which is implementing the Michigan Medical Marijuana Facilities Licensing Act (MMFLA), announced guidance on a number of fronts for all applicants ahead of December 15th – the date when the state is mandated to begin accepting applications for the five classes of medical marijuana licenses – Grower, Processor, Provisioning Center, Secure Transporter and Safety Compliance Facility (i.e. analytical laboratory).
In what is sure to attract industrial capital, the BMMR announced that "stacking" of Class C licensee will be allowed. An applicant for a Michigan Marijuana Grower license may apply for and receive multiple Class C grower licenses, each of which allows the licensee to grow up to 1,500 marijuana plants. With this approval, the stacking of multiple licenses is now expected to be pursued by institutional investors seeking to build large medical marijuana businesses consisting of thousands of plants. Each such license will be subject to an additional application and regulatory assessment. Local government ordinances, however, could still limit the size of these new businesses and not permit license stacking at one location.
The BMMR also offered guidance to applicants on how a number of issues will be handled beginning December 15, 2017, as follows:
APPLICATIONS: As expected, each license will be valid for one year and is subject to renewal. The state has clarified that an applicant is ineligible if they were convicted of or released from incarceration for a felony in any state or under federal law within the past 10 years, or if they have been convicted of a controlled substance-related felony within the past 10 years. Misdemeanors and code violations in the past five years involving a controlled substance or theft also will preclude an applicant.
The Medical Marihuana Licensing Board ("the board") also will take into account a number of other factors when determining whether to grant a license. These are expected to be detailed in the final Medical Marijuana rules package. For instance, applicants will have to demonstrate the ability to maintain a minimum of $100,000 in premises liability and casualty insurance. Until June 30, 2018, applicants will be ineligible if they were not a resident of the state for the two years immediately preceding their application. The board will consider each applicant's capitalization, whether they have a history of noncompliance with regulatory requirements in Michigan or elsewhere, as well as any criminal offense more serious than a parking ticket, regardless of whether the conviction has been expunged.
These rules are consistent with the board's prior statements that they would consider the applicant's criminal history, as well as a host of other factors. Notably, the BMMR did not address whether an applicant's prior operation of a dispensary will preclude them from receiving a license. Board member Don Bailey of Traverse City previously sought to bar such applicants from receiving licenses under the MMFLA. To date, the BMMR has not announced such a rule.
LOCAL GOVERNMENTS: While the state will not limit the number of licenses issued, each municipality is allowed to decide if it wishes to "opt in" to allow medical marijuana operations, as well as limit the type and number of facilities authorized within its boundaries. Current information is that some 19 municipalities have opted in to allow such operations. Further expansion of allowed locations is expected after the November municipal elections as City and Township commissions change. Each local government must receive notice from the applicant that they have applied for one of the five types of licenses. The local government then has 90 days to provide the State a copy of the local ordinance, complete with regulations that will apply to the applicant, and a description of any ordinance or zoning violations by the applicant.
FEES: Costs for applicants, besides the application fee and regulatory assessment, will include payments to secure transporters for their services. Additionally, licensees will have to pay their local municipality up to $5,000 annually to offset local administrative costs. This is intended to be a cost recovery and not a blanket fee. Finally, dispensaries or provisioning centers will have to pay a 3% tax on gross retail receipts. As the state indicated last month, application fees will depend on how many applications are received. For example, estimates are that for 500 applications, the fee will be $8,000; if there are 2,000 applications, that fee will drop to $4,500.
In addition to the application fee, a regulatory assessment must be paid prior to receipt of the application. If there are 300 licensees, Class A growers will pay a $10,000 assessment while Class B & C growers, processors, secure transporters and provisioning centers may pay up to $57,000. That assessment is $9,000 for all licensees if there are 1,800 licenses. Safety compliance facility licensees will not pay a regulatory assessment.
FBMJ will continue to monitor developments from the BMMR and as the December 15th date approaches will be providing more guidance and clarity on these and similar rules. Emergency rules are expected in November.
Foley, Baron, Metzger & Juip offers comprehensive administrative licensing services, including guidance with applications and the defense of licenses before the state licensing board. We also advise clients regarding Michigan medical marijuana law and the applicable state regulations, as well as land use, environmental compliance, facilities siting and related issues. For more information contact Richard Baron or Daniel Cortez at 734-742-1800.