April 2017
Medical Marijuana Laws to Bring New Regulations Once Appointments Made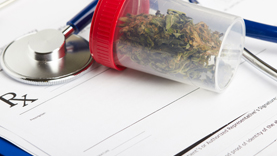 A recent delay will likely slow the announcement of specific rules and regulations that will govern the application process for a license under the Medical Marihuana Facilities Licensing Act (the Act). Michigan Governor Rick Snyder signed a package of three bills that created regulatory framework for the distribution of medical marijuana in September, 2016. The bills, which went into effect in December, 2016, created licensing and other processing requirements for those interested in growing, transporting, or dispensing medical marijuana. These laws follow nearly a decade of confusion as to how medical marijuana would be regulated after voters passed an amendment to legalize use of the drug for medical purposes in 2008.
The Act created the Medical Marihuana Licensing Board within the state's Department of Licensing and Regulatory Affairs ("LARA"). The board will implement the new law, including the licensing processes for marijuana growers, processors, transporters, provisioning centers, and safety compliance facilities. A person may apply for one of these licenses under the act beginning in December 2017.
However, Gov. Snyder has yet to make the appointments necessary to the 17-member panel that is to advise LARA in creating the specific rules and regulations that will govern the application process. Those appointments were to be made in March 2017, but did not happen. Gov. Snyder's office has attributed the delay to the need for thorough background vetting of prospective panel members.
The slate of bills in the Act represents a significant step forward in medical marijuana being treated as though it were any other state-regulated business. Those who previously were hesitant to be involved in the medical marijuana industry due to the vagueness of the original law should feel encouraged now that the creation of the state board lends the business additional legitimacy.
The bill identifies three classes of "growers" – the largest of which can have 1,500 marijuana plants. A "processor" can purchase marijuana from a grower and sell the drug to a provisioning center. A "secure transporter" license allows a licensee to store and transport marijuana and money associated with buying and selling the drug between marijuana facilities for a fee. A "provisioning center" license allows for the purchase or transfer of marijuana only from a grower or processor to a qualifying patient or caregiver. Finally, "safety compliance" facilities will be allowed to receive and test marijuana.
Similar to how LARA regulates other professional industries – such as pharmacists – the Act authorizes the licensing board to impose sanctions and civil fines for those who violate the applicable rules. Those found to be in violation of the Act's requirements can have their license suspended, restricted, or revoked pursuant to the procedures in the Administrative Procedures Act that governs similar state license hearings.
As part of the new statutory scheme, the board is authorized to inspect all premises of marijuana facilities. Among its other responsibilities, it will decide on applications for a state operating license, conduct public meetings, and provide oversight of marijuana facilities through inspections. The board is also to levy and collect fines for violations of the Act's rules. Finally, the bill calls for a tax on gross profits from provisioning centers that is expected to generate $21.3 million annually. An additional $43 million is projected if a sales tax was applied to transactions at provision centers.
The second of the three bills amends the Act to allow for the manufacture of a marijuana-infused product, commonly known as edibles. In other states, some foods that have been infused with marijuana include gummy bears, honey, and soda. Risk management considerations may warrant having infusions that are less attractive to children. Going forward, a qualifying patient or primary caregiver can possess a combined total of 2.5 ounces of usable marijuana or marijuana equivalents. Marijuana-infused solids or liquid equivalents are 16 and 36 ounces, and an infused product in gaseous form is limited to 7 grams.
Finally, the Marihuana Tracking Act requires LARA to establish a statewide "internet-based monitoring system" that will track and inventory medical marijuana throughout the state as it grows from a seed to being for sale at a dispensary. For complete information about the three-bill package, please click here.
Foley, Baron, Metzger & Juip offers comprehensive administrative licensing services, including guidance with applications and the defense of licenses before the state licensing board. We also advise clients regarding medical marijuana law and the applicable state regulations. If you would like additional information pertaining to these topics, please contact Kim Sveska (ksveska@fbmjlaw.com), Richard Baron (rbaron@fbmjlaw.com) or Dan Cortez (dcortez@fbmjlaw.com).