September 2017
Marijuana Bureau: New Law Will Allow Marijuana to Be Grown, Processed, Dispensed All at One Location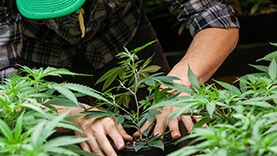 In a bit of a surprise announcement, the Michigan Bureau of Medical Marijuana Regulation (BMMR) issued an Advisory Bulletin on September 21, 2017 stating that licensees under the Michigan Medical Marijuana Facilities Licensing Act (MMFLA) will be permitted to grow, process and dispense marijuana all at the same location.
Previous statements from the BMMR and the Michigan Department of Licensing and Regulatory Affairs (LARA) led many to believe that the MMFLA would bar a party from growing, processing and dispensing medical marijuana at the same location. In fact, the new laws specifically identify secure transporters as a class of licensees who would be permitted to transport marijuana from a grow location to a provisioning center, or dispensary. With the BMMR's latest announcement, it should be anticipated that once the state begins to accept applications on December 15, 2017, many applicants will seek all licenses necessary to grow, process, and distribute from the same location.
Of course, there are conditions. The BMMR said that the same location may be used for those three activities under the following conditions:
Each licensed entity remains distinct and separate within different working areas.
Each licensed entity has separate entrances and exits, point of sale operations (if applicable), and record keeping systems.
The municipality in which the facility is located does not prohibit co-location of facilities through its local ordinance or zoning regulations.
Each licensed entity is compliant with local and state public health standards and building inspection and fire safety regulations.
Each entity's license is posted on the wall in its distinct working area.
The Department has authorized the licensees to operate at the same location.
The Bureau of Medical Marihuana Regulation indicated that additional inspections may be required, and each grower, processor, and provisioning center will require its own separate application, regulatory assessment, and license. As we reported earlier this month a non-refundable application fee – to be submitted with the application – would cost $4,000-$8,000 depending on the number of applications received. Separate from that application fee will be an annual regulatory assessment that will be used to offset the bureau's costs. While the Grower-A fee is capped at $10,000, the annual fee for larger grower classifications, processor, transport, and provisioning center licenses may reach as high as $57,000 depending on how many applications are received. It appears as though those who seek all three licenses at one location will have to pay the application and regulatory assessment fees for each of the three licenses.
Foley, Baron, Metzger & Juip's Michigan Medical Marijuana Practice Group will continue to follow these and other developments with the Michigan Medical Marijuana Facilities Licensing Act as the state prepares to accept applications in December. Our firm offers comprehensive administrative licensing services, including guidance with applications and the defense of licenses before the state licensing board. We also advise clients regarding Michigan medical marijuana law and the applicable state regulations, as well as land use, environmental compliance, facilities siting and related issues. Contact Richard Baron or Daniel Cortez for additional information at 734-742-1800.