JULY 2017
LARA Director: Emergency Rules for Marijuana Applications Coming This Fall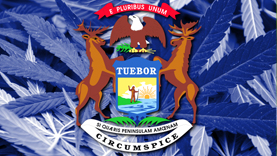 The Michigan Licensing and Regulatory Affairs (LARA) director, Shelly Edgerton, announced that emergency rules will initially be put in place this fall so that the state can meet its December deadline to accept applications for marijuana grower, processor, and transporter licenses under the Medical Marijuana Facilities Licensing Act (the "MMFLA"). She stated that rumors that applications are available or have already been submitted are entirely false.
Director Edgerton spoke to attendees of the Southeast Michigan Cannabis Business Development Conference in Detroit on July 9, 2017. LARA, along with the Michigan Bureau of Medical Marijuana Regulation, was given one year to create rules and regulations that would govern the new law, including the licensing processes for marijuana growers, processors, transporters, provisioning centers, and safety compliance facilities. Applications for these new licenses will be accepted beginning on December 15, 2017. Edgerton said that she and six others within LARA are working on the new rules but are severely understaffed.
As a result, Edgerton said that emergency rules will have to be put in place so the state is ready to accept applications in December. These rules will include a checklist for applicants and basic business regulations. However, unlike the normal rules creation process, the state will not formally take into account stakeholder input when creating the emergency rules. More complete rules should be expected in 2018, after licenses have been issued and the program has been in operation. Edgerton said the state will look to schedule training sessions for licensees through Michigan State University.
The next meeting of the Michigan Medical Marijuana Licensing Board is scheduled for October 12th in Lansing. However, Edgerton said that she would like to hold additional board meetings prior to December. Edgerton also shared the following developments on the law's implementation:
Once the law has been implemented on December 15th, current dispensaries will likely be deemed to be operating illegally if they do not have a license under the MMFLA as a Provisioning Center;
The state is evaluating co-location of licensed facilities but has not determined whether licensees can locate a processing plant and grow operation at the same physical location. While such a combination operation may be permitted, Edgerton stated it is unlikely that such an operation could be combined with a provisioning center;
There was little clarity offered as to whether applicants will be permitted to "stack" multiple licenses at one grower location or with one applicant so as to increase the amount of plants that can be grown at one location beyond the cap of 1,500 under a Class C grower license. Edgerton said LARA is working through that issue;
No determination has been made as to how much money or other financial assets applicants will be required to prove they have as part of their applications. Edgerton said the state wants to take a '"broad-based" approach to this topic, likely meaning that there might be different dollar amounts depending on the type of license sought; and
LARA has asked the legislature to put language into the MMFLA that will hold harmless CPAs, banks, and other professionals who provide services to cannabis businesses from facing prosecution or licensure.
Among other speakers at the conference was FBMJ founding partner Richard Baron. Baron educated the audience of prospective medical marijuana business owners on a variety of topics commonly overlooked by those focused solely on plants and licenses. He discussed the importance of the proper due diligence when establishing a medical marijuana business, such as being aware of potential environmental concerns prior to property acquisition, the potential for medical marijuana businesses in Brownfield Redevelopment Zones, and managing liability pertaining to the businesses, including potential product liability claims, and nuisance or trespass claims from neighboring property owners or residents.
Foley, Baron, Metzger & Juip will continue to follow these and other developments with the MMFLA as the state prepares to accept applications in December. FBMJ offers comprehensive administrative licensing services, including guidance with applications and the defense of licenses before the state licensing board. We also advise clients regarding appropriate due diligence, medical marijuana law and the applicable state regulations, as well as land use, facilities siting and related issues.
Contact Richard Baron or Daniel Cortez for more information at 734-742-1800.