November 2017
FBMJ Attorneys Present at Wound Care Conference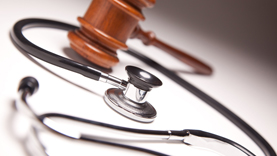 On November 2, 2017, FBMJ attorneys Clyde Metzger and Mitchell Jackson presented at Saint Joseph Mercy Health's Wound Care Conference, which is designed to educate healthcare providers regarding clinical interventions to prevent skin breakdown and legal concerns related to hospital-acquired pressure injuries.
Their presentation titled, "Steering Clear of Pains in the Rear: Pressure Injuries, Attorneys, & How to Avoid Them," discussed legal issues surrounding pressure injuries, including recent trends in pressure injury litigation, an overview of the litigation process, and strategies for minimizing the risk of lawsuits.
Attendees were encouraged to be proactive in protecting themselves and their institutions from malpractice claims, cautioned regarding the personal and institutional consequences of adverse events, and provided practical advice for avoiding legal entanglements. The presentation was conducted as an open forum, which resulted in a rich dialogue between the presenters, healthcare providers, administrators, and risk managers. The discussion concluded with a case study based on the facts of a recent malpractice case, which was used to illustrate and reiterate critical points.
For more information on this and other healthcare-related matters, contact Clyde Metzger or Mitchell Jackson at 734-742-1800.