June 2017
FBMJ Attorneys Co-Author Article for CLM – "When Water Becomes Waste"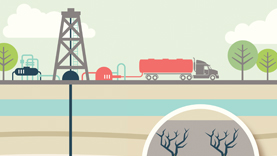 Richard Baron, Ben Fruchey and Nicholas Andrew co-authored "When Water Becomes Waste," published in the June, 2017 issue of CLM Magazine. The article focuses on the significant growth in insurance claims related to the release of water extracted from the ground as a byproduct of oil and gas production, often involving hydraulic fracturing (fracking), and the importance of understanding the potential risks.
"When Water Becomes Waste" discusses remediation strategies and options for handling production water releases outside of the one-size-fits-all approach to remediation often used by emergency responders, yet in a way that will protect human health and the environment in a cost-effective manner.
CLM Magazine is a publication of the Claims and Litigation Management (CLM) Alliance, a national organization of over 35,000 professionals in the claims and litigation management industries.
FBMJ environmental attorneys understand the environmental issues surrounding hydraulic fracturing in the oil and gas industry, and routinely advise clients on remediation strategies and associated claims handling. For more information on this or other environmental concerns contact Richard Baron, Ben Fruchey, or Nicholas Andrew at 734-742-1800.