June 2018
FBMJ Attorney Wins Seat on SBM Board of Commissioners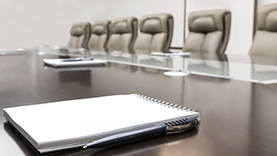 FBMJ attorney, Joseph P. McGill, won a contested seat on the State Bar of Michigan's (SBM) Board of Commissioners in this year's elections. He will serve a three-year term expiring in 2021 representing attorneys in Wayne, Monroe and Lenawee counties (District H).
The Board of Commissioners (BOC) was established by the Michigan Supreme Court to assist with surviving the needs of the 45,000+ attorneys throughout the State. The Commission works with the Court, SBM staff and the Representative Assembly on issues related to access to justice, the administration of the courts and the practice of law in Michigan.
There are twenty elected board members drawn from statewide voting districts.  District H, representing Monroe, Lenawee and Wayne counties, was considered the most hotly contested race in the State with six highly-qualified candidates vying for one seat. FBMJ congratulations all the candidates that ran and look forward to McGill's term as a Commissioner for the State Bar of Michigan.
For more information please contact Joseph P. McGill at jmcgill@fbmjlaw.com or 734-742-1800.