September 2021
Clyde Metzger Recognized as "Go To Lawyer" for Medical Malpractice by Michigan Lawyers Weekly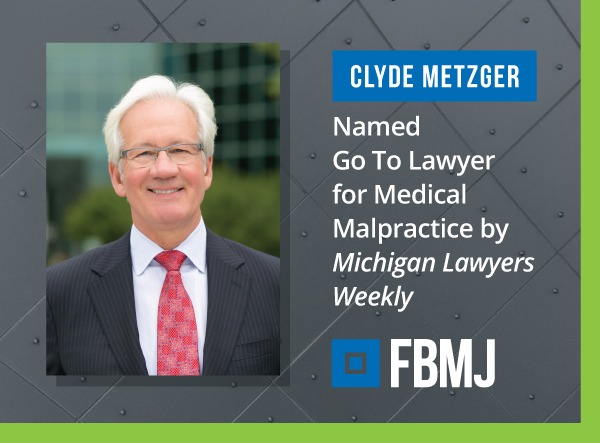 Foley, Baron, Metzger & Juip, PLLC is pleased to announce that Clyde Metzger, a Founding Member of the firm and current Firm Manager, has been named one of 15 "Go To Lawyers" for medical malpractice law by Michigan Lawyers Weekly.
Now in its second year, the "Go To Lawyers" program recognizes leading lawyers in particular fields of law in Michigan. Metzger, along with other honorees, will be featured in a special section that will appear in Michigan Lawyers Weekly in October.
Metzger's practice focuses on the representation of clients in complex litigation, class actions, business litigation, and product liability claims. In addition, he has served as counsel in physician staff privilege claims, medical malpractice actions for hospitals and physicians, managed care litigation, pharmacy benefit manager litigation, and insurance coverage disputes. He also has experience in commercial litigation, general liability claims, corporate healthcare claims, and civil rights, 42 USC 1983 defense litigation focusing on health care in county jails and state prisons. He has conducted numerous trials in both state and federal courts.