September 2022
Brian Whitelaw Recognized as "Go To Lawyer" for Medical Malpractice by Michigan Lawyers Weekly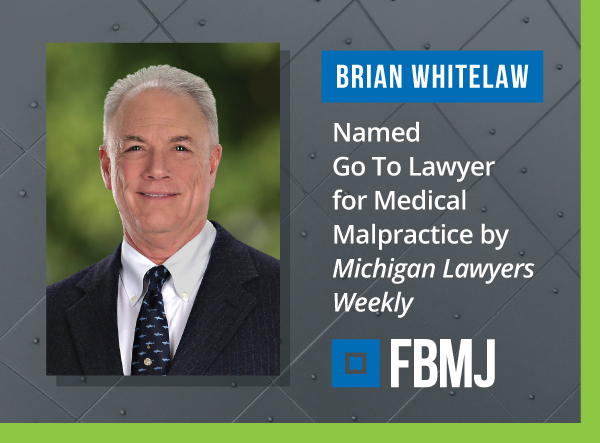 Foley, Baron, Metzger and Juip, PLLC is pleased to announce that Brian W. Whitelaw, a Partner with the firm, has been named one of 20 "Go To Lawyers" for medical malpractice law by Michigan Lawyers Weekly.
Now in its third year, the "Go To Lawyers" program recognizes lawyers in particular fields of law in Michigan. Whitelaw, along with other honorees, will be featured in a special section that will appear in Michigan Lawyers Weekly in October.
Whitelaw has devoted over 35 years to defending health care professionals throughout Michigan and has a 95% win rate in 70+ jury trials. He has successfully defended hospital systems and staff in suits arising out of a variety of medical specialties, including emergency medicine, neurosurgery, orthopedic surgery, anesthesiology, cardiology, interventional cardiology, oncology, allergy and immunology, pediatrics, and others.
He has been selected for numerous other recognitions for his work in the medical malpractice field of law and is active in a variety of organizations dedicated to judicial independence and elevating standards of integrity in the legal field. In addition to defending medical malpractice claims, Brian assists physicians and medical practices with contract and licensing issues.