December 2017
Attorney Richard Baron Presents Fracking Webinar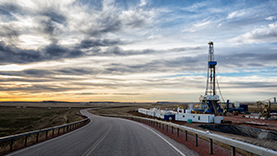 FBMJ attorney, Richard Baron, along with Texas attorney Rebecca Jo Reser, delivered a presentation entitled "Fracking and Insurance Coverage Issues" as part of the quarterly meeting of the Environmental & Toxic Tort Section of the Claims and Litigation Management Alliance (CLM). The presentation focused on the hydraulic fracturing ("fracking") process, the environmental risks associated with the process and insurance coverage issues that arise as a result of fracking incidents.
"Fracking and Insurance Coverage Issues" recounted the rise of the fracking industry, and the resulting rise of environmental incidents. These incidents often relate to wastewater transport and disposal, and the responses often involve containment, excavation, and monitoring.  The webinar outlined how experienced consultants and supervising counsel can provide a quick and efficient response to fracking incidents that can often lead to closure without a drawn-out regulatory process. Finally, the presentation closed with an explanation on what insurance policies normally cover related to fracking activities, such as water releases and fires, as opposed to what may not be covered at present, such as seismic activity.        
The CLM Alliance is a national organization of over 35,000 professionals in the claims and litigation management industries.
For more information on this or other environmental concerns contact Richard Baron, Benjamin Fruchey,
or Nicholas Andrew at 734-742-1800.