February 2017
Attorney Benjamin Fruchey Promoted to Associate Principal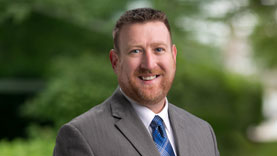 Foley, Baron, Metzger & Juip, PLLC (FBMJ) is pleased to announce the promotion of attorney Benjamin Fruchey from Senior Associate to Associate Principal, effective February 1, 2017. Richard Baron, Member, made the announcement.
Fruchey started with the firm in 2010 and specializes in the environmental and construction industries, representing clients on matters involving environmental, toxic tort, mass tort and products liability litigation. He also advises on compliance with environmental regulations, permitting, spill response, hazardous waste issues and a host of other related issues. In addition to his litigation work, Ben handles matters involving CERCLA, RCRA and a multitude of state-specific environmental regulations. His past experience as an environmental consultant provided him with hands-on experience remediating contaminated sites and conducting soil and groundwater sampling in accordance with NREPA. In addition, prior work as a geoscientist at ConocoPhillips gave Fruchey experience in oil and gas exploration and production.
Fruchey earned his law degree (Magna Cum Laude) in 2008 from Michigan State University College of Law, a Master of Science in Geology from the University of Wyoming in 2002, and a Bachelor of Science in Environmental Geology and Hydrology (Summa Cum Laude) in 1999. He is licensed to practice in the State of Michigan and the U.S. District Court for the Eastern District of Michigan, and is a member of the State Bar of Michigan (SBM) and the Michigan Association of Environmental Professionals (MAEP).
"Ben's unique ability for quickly getting to the heart of the matter and making complex and difficult environmental issues understandable for our clients has been a critical part of our Environmental Practice Group. We are delighted to promote such an excellent attorney," said firm member, Richard Baron.